About the program
The "¡Más Fresco! More Fresh Fruit and Vegetable Prescription Program for Families with Type 2 Diabetes Mellitus" is a study being conducted by Dr. Rhee at the UC San Diego School of Medicine. This study is a collaboration between the following partners:
UC San Diego School of Medicine, including:
Department of Pediatrics

Division of Child and Community Health
Division of Endocrinology

Center for Community Health
and Rady Children's Hospital.
The purpose of this study is to learn how nutrition education, along with fruit and vegetable vouchers, affects the health and dietary behaviors of children and families with type 2 diabetes.
 Program participants must be less than 18 years of age, receive care for type 2 diabetes at the Rady Children's Hospital Diabetes Clinic, and receive Medi-Cal insurance or CalFresh benefits.
What is involved in this study?
Your family will receive monthly fruit and vegetable vouchers (total $105 per month) for 12 months either immediately or after a 6-month waiting period, depending on your randomly assigned study group.
Vouchers can be used to purchase eligible fresh fruits and vegetables and dried beans and legumes at a participating Northgate Gonzalez Market location.
We will ask you and your child to complete surveys every 6 months.
Families will receive a $20 gift card to Northgate Gonzalez Markets or a $20 VISA gift card as compensation for the time and effort it takes to complete each survey.
Your child will continue to come to his or her routine appointments in the Rady Children's Diabetes Clinic.
Have questions about the study? Contact our research team by leaving a message at 858-576-1700 x221857, or by email at masfrescoFVRX@health.ucsd.edu
Frequently Asked Questions
How is this different from the ¡Más Fresco! More Fresh Program?
This is a program exclusively available to families with children who have type 2 diabetes and receive care at the Rady Children's Hospital Diabetes Clinic.
How do my voucher work?
The vouchers look and feel like plastic gift cards. Each voucher card has a value of $15.
You will receive seven vouchers (worth $15 each, for a total $105) every month, for 12 months.
Each voucher can be redeemed at participating Northgate Gonzalez Markets for the purchase of fresh fruits and vegetables and dried beans and legumes
You can use a maximum of four vouchers (total value $60) per transaction

We recommend that you try to spend the full amount, or a little more than the value of the voucher, on eligible items at each transaction ($15, $30, $45, $60)
The cash register will not accept any vouchers unless you spend at least $15 on eligible items.
You will have to pay the remaining balance with your own money.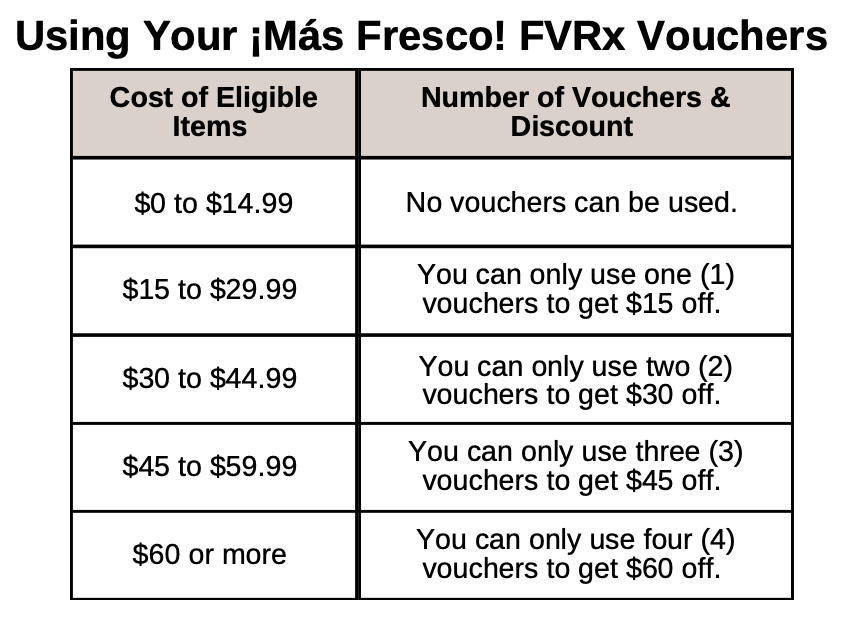 The cashiers will collect and keep the vouchers at the time of use
Voucher cards can only be used to purchase items for your family
The vouchers will expire on May 31, 2024.
The vouchers cannot be replaced if you lose them.
How to use Mas Fresco FVRX vouchers-English
Where can I find a nearby Northgate Gonzalez Market?
Participating Northgate Gonzalez Markets in San Diego and Riverside Counties:

Central San Diego

City Heights: Northgate González Market 5403 University Ave., San Diego, CA 92105
Barrio Logan: Northgate González Market 1950 Main St., San Diego, CA 92113
National City: Northgate González Market 1410 S. 43rd St., San Diego, CA 92113

Southbay San Diego

Chula Vista: Northgate González Market 1058 3rd Ave., Chula Vista, CA 92911
Otay Mesa: Northgate González Market 2909 Coronado Ave., San Diego CA 92154

North County San Diego

Fallbrook: Northgate González Market 1346 S Mission Rd., Fallbrook, CA 92018
Vista: Northgate González Market 1150 E. Vista Way, Vista, CA 92084
Escondido: Northgate González Market 606 n. Escondido Blvd., Escondido, CA 92025

Riverside County

Riverside: Northgate González Market 10391 Magnolia Ave., Riverside, CA 92505

For a map and hours of operation click here.
For more information, visit http://northgatemarket.com/locations